Role change!
Due to the unfortunate injury of dancer Tamás Darai, who played Romeo, Ionut Dinita will be replaced in tonight's performance.
Ballet Maribor
Valentina Turcu, Szergej Prokofjev:
Romeo and Juliet
ballet
Thursday, 13 July 2023, 8:30pm (rain date: 14 July)
Margaret Island Open-Air Stage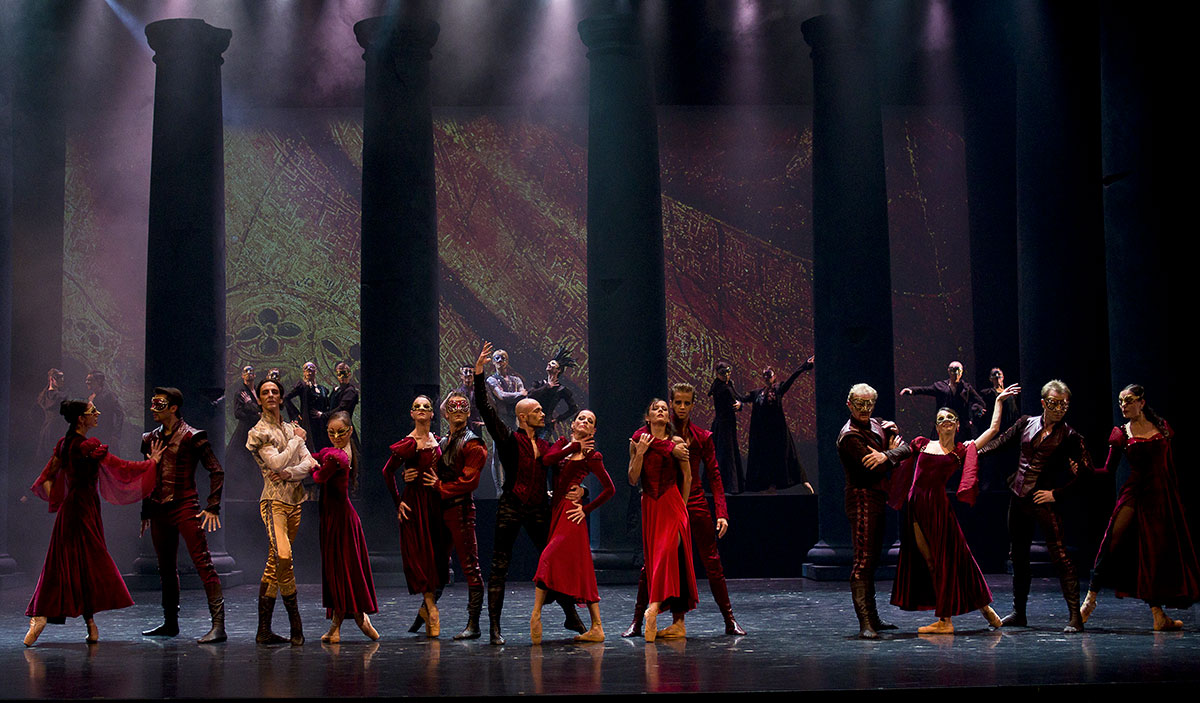 Following their highly-successful performance on Margaret Island, the charismatic dancers of the ballet ensemble at Slovene National Theatre Maribor (SNG Maribor) can be seen again by our audience in the summer of 2023 in a production of Romeo and Juliet choreographed by Valentina Turcu.
Star performer: Tamás Darai (in the role of Romeo)
Director: Valentina Turcu
The ballet's direction presents a portrait of eternal love sacrificed due to an inimical environment and crumbling relationships. The production draws inspiration from Renaissance painting and architecture while also expressing the topical, contemporary desire for eternal love.
The hunger for life and the fresh experience of love – with its sensuality, cruelty, and passion – are the focal points of the drama's irreconcilable conflict, leading to the tragic end of the two young idealists. Juliet's recognition of her inescapable and fateful destiny is presented as an inward journey through the murkiest and deepest portions of the soul. Meanwhile, she devotes herself to Justice and Love, ultimately uniting with the Sublime.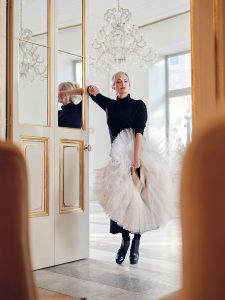 Valentina Turcu is a classically trained ballet soloist and choreographer who is today one of the most esteemed and prominent artists in Slovenia and neighbouring countries. Her creations extend beyond choreography and stage movement design for operas, dramas, concerts, and ballet evenings in terms of genre and style, ranging from multi-award-winning full-length ballets to contemporary one-acts and choreographic miniatures. Her oeuvre, with over 130 created or co-created ballets, drama and opera productions, testifies not only to her epochal creative potential but also to her versatile and exceptionally flexible theatrical intuition, which has recently been confirmed in her highly successful directing of drama performances.
Valentina was born in Zagreb and discovered her deep passion for theatre and dance art very early on, mainly guided by her parents, internationally renowned ballet soloists, Marin Turcu and Maja Srbljenović Turcu. Her inexhaustible desire for perfection and new challenges in terms of developing her own movement virtuosity led her to the prestigious Béjart Ballet in Lausanne, where, under the watchful mentorship of the legendary choreographer and ballet master Maurice Béjart, she developed her unique choreographic handwriting and dance expressiveness, performing in numerous Béjart choreographies.
After returning to Slovenia, she quickly established herself as one of the most technically refined and expressive dancers, first confirming her talent in Clug's choreographic debut Tango, and then in other solo roles in classical and neoclassical ballet and contemporary dance, leaving a deep impression on critics and audiences in Slovenia and abroad. In 2007, she created her choreographic debut La Callas for the Maribor Ballet, dedicated to the icon of opera art, thus drawing attention to her unique approach to the integration of different artistic forms. In the following years, she achieved even greater international recognition with her psychologically profound and aesthetically polished choreographies, such as Carmen (HNK Split, 2011), Bolero (HNK Split, 2011).
Her great artistic breakthrough happened in 2013 with the authorial choreography of the drama ballet Romeo and Juliet (to the music of Sergei Prokofiev), which she created for the Maribor Ballet and for which she received the prestigious Pie and Pina Mlakar Award. As the expert jury of the Slovenian Ballet Artists Association noted, "Valentina Turcu has set a new benchmark in the quality and expression of contemporary classical ballet." In the following two years, the ballet Romeo and Juliet enjoyed great success at the Latvian National Theatre in Riga (2014), at the Opera Metz Métropole (2015) and at National Opera in Cluj-Napoca (2023).
Other major successes undoubtedly include the drama ballets Anna Karenina (HNK Zagreb, 2014), Dangerous Liaisons (2014, coproduction of the Dubrovnik Summer Festival, Ljubljana Festival and SNG Maribor), and Eugene Onegin (SNG Maribor, 2016). In April 2017, Valentina Turcu created a new production of the ballet thriller Carmen for the Augsburg Ballet. Later that year, she collaborated with renowned choreographer Julio Arozarena on the production of the ballet Don Giovanni for the Latvian National Ballet in Riga, with an adaptation of Wolfgang Amadeus Mozart's musical score.
One of her recent successes in the genre of dramatic ballet is Death in Venice (a co-production of HNK Zagreb and SNG Maribor, 2018), based on the eponymous novella by Thomas Mann and set to the music of one of the greatest symphonists of fin de siècle, Gustav Mahler. Another notable production is the ballet Lady of the Camellias (set to the music of Franz Schubert in the orchestration and arrangement of Andrej Puškarev), which premiered on March 6, 2020 at the Janáček Theatre in Brno. According to the critics of the professional magazine Dance Europe Magazine, the performance was ranked among the top five ballets premiered in 2020. In 2022, she created the ballet Madame Bovary for the Ballet of HNK Zagreb and the Ballet of SNG Maribor.
Valentina Turcu has received numerous prestigious awards for her artistic achievements, including the Pie and Pina Mlakar Award, the Croatian Drama Artists Award for the best performance and choreography in 2019 for her directorial debut A Streetcar Named Desire (produced by HNK Varaždin), which was performed at the prestigious Gavella Evenings Drama Festival, the Prešeren Fund Award (2018), the Glazer Charter (2017), the Orlando Award (2016) presented by the Dubrovnik Summer Festival, the "Latvijas Gāze" Award for the ballet Romeo and Juliet, which was declared the best theatre production of the 2014/2015 season in Latvia, and she was also nominated for the Kyoto Prize for innovations in dance theatre that address all of humanity with their values and positions. In 2023, Valentina Turcu was awarded the Gabriela Taub Darvaș Award for her outstanding achievements in choreographic art in Romania.
JULIET - Catarina de Meneses
ROMEO - Tamás Darai
MERCUTIO - Andrea Schiffano
TYBALT - Sytze Jan Luske
BENVOGLIO - Yuya Omaki
PARIS - Lucio Mouttone
LADY CAPULETTI - Tanja Baronik
LORD CAPULETTI - Sergiu Moga
LADY MONTECHI - Evgenija Koškina
LORD MONTECHI - Tiberiu Marta
NANNY - Helena Klasič
COURTESAN- Branka Popovici / Olesja Hartmann Marin
COLUMBINE - Asami Nakashima
HARLEQUINS- Tomaž Golub, Mateo Magallotti, Aleksandar Trenevski
FRIAR LORENZZO - Marin Turcu
THE CAPULETTI FAMILY
Asami Nakashima, Hristina Stoycheva, Monja Obrul, Beatrice Bartolomei, Tea Bajc
Cristian Popovici, Davide Buffone, Tomaž Golub, Christopher Thompson
THE MONTECHI FAMILY
Ema Perić, Ines Uroševič, Mina Radaković, Satomi Netsu
Alexandru Pilca, Mircea Golescu, Matteo Magallotti, Aleksandar Trenevski
Tamás Darai was born in Budapest, Hungary. He studied at the Hungarian Dance Academy (BA) and participated in competitions in Lausanne, Istanbul and Beijing, and in summer intensives in North Carolina and Houston.
Tamás joined the Ballet of the Croatian National Theatre in Zagreb in 2012 under the direction of Irena Pasaric, where he became a first soloist. He left the company to join Ballett Augsburg in 2015.
He danced in choreographies by William Forsythe, Nacho Duato, Marco Goecke, Hans van Manen, Uwe Scholtz, Valentina Turcu and Cayetano Soto, among others, and worked on creations with Pascal Touzeau, Edward Clug, Dominique Dumais, Leo Mujic, Mauro de Candia, Ronald Savkovic and Riccardo De Nigris. His title roles were Franz in Coppelia, Prince in Nutcracker, Vronsky in Anna Karenina, Don Jose in Carmen, and Faust.
He joined the Dresden Frankfurt Dance Company in June 2017. There he worked and created with Jacopo Godani and learned his method of contemporary movement. Tamás danced in many of Godani's pieces such as High Breed, Moto Perpetuo, Echoes from a Restless Soul, Metamorphers, Post Genoma and he was involved in the creation of Extinction of a Minor Species, Unit in Reaction, Al di La, From Now On, Ultimatum, Alter Ego, Stormo, Satelliting. He also did improvisation-based artistic installations with the company in Senckenberg Naturmuseum in Frankfurt, in the Frankfurter Kunstverein and in the Museum of Contemporary
Art in Belgrade. Tamás performed with the company in theaters such as Teatro Real in Madrid, Stanislavsky Theater in Moscow, Tel Aviv Opera and they performed in festivals in Montpellier, Reggio Emilia, Barcelona, Sevilla, Zaragoza, Kuopio, Winterthur and Ludwigsburg.
He performed in galas as a guest artist in Japan, Spain, Germany and Croatia.
Since 2020 he is a freelance artist. He started to teach workshops and give ballet classes, and in 2021 became a Master's Degree student at the Hungarian Dance Academy.
Ionut Dinita began dancing at the early age of 7. He studied at the Floria Capsali Academy in Bucharest where he graduated in 2016 and joined the National Opera Ballet House in Bucharest.
From 2017 to 2021, he danced as a soloist at the Ballet of Slovene National Theatre Maribor, and since 2021, he is a soloist at the National Opera in Bucharest.
With the Maribor Ballet Ionut Dinita frequently toured throughout Europe and on two exhilarating tours in Latin America, mesmerising audiences with his exceptional talent, graceful movements and captivating stage presence. Ionut's ability to connect with diverse audiences across continents solidified his reputation as a truly versatile and acclaimed ballet principal dancer.
His repertoire includes roles such as Siegfried in Swan Lake, Albrecht in Giselle, Prince Charming in Cinderella, James and the Prince in The Nutcracker, Romeo in Romeo and Juliet He has also danced with Sergei Polunin in "Fraudulent Smile" and other productions by Polunin Ink.